The 6.0 release of ChannelOnline brings new document creation and delivery features plus a series of back-end changes to enhance functionality and the business process experience.
Easy Document Customization
ChannelOnline 6.0 introduces a whole new way to customize the look of your quote, sales order and invoice documents.
Users with permission to 'Design and Manage Document Templates' will see a new Admin module called Document Templates where they can create and manage template designs. There will be a handful of built-in designs already available for use as well as a version of the current design you are using today.

Document Templates can be flagged as Enabled/Disabled to control their availability on the new delivery screen. In additon, templates can also be designated for use as packing slips.

The designer interface has been built for ease of use. Just choose a layout design from the dropdown, add components to the page by clicking on the plus symbol in the target area, and finish by adding color and fonts. Some components have size restrictions for where they can be placed.
Many components can be configured with titles, font sizing, borders, and backgrounds by using the edit button. The HTML component has a built-in HTML editor for creating richer messages.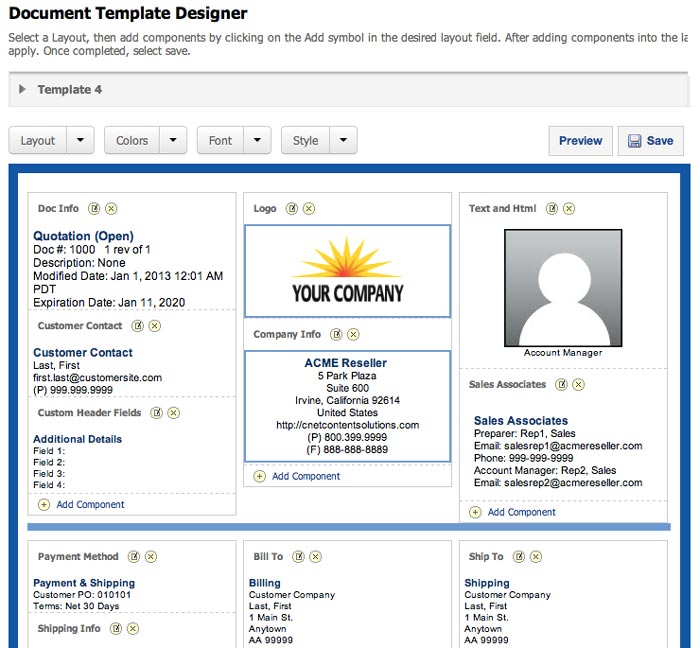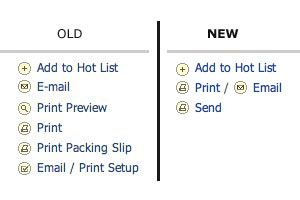 ChannelOnline has dramatically improved the capabilities and methods for delivering a quote to your customer.
Now you can enjoy a consolidated document delivery experience from the click of a single button. This new button is called 'Print / Email' and can be found at the bottom of any document page. What you used to do with many links, you can now do with one.
The document delivery screen now includes a live preview of the finished result which you can review before sending, printing, or downloading as a PDF directly to your hard drive. Also new for this release is the ability to add file attachments to the emails you send out of ChannelOnline. When emailing, downloading, or printing any document, the template selector allows you to choose from a list of 'active' templates for formatting your document.
After selecting a template, there are a number of familiar and new document print options. Some of these new options include showing product images, terms and conditions, and percent discount off a product's list/MSRP price.
Delivery option preferences (default template and checkbox options) are stored for each sales rep in their My Preferences section. Get to it by navigating to: My Account -> My Preferences -> Print Preferences.
Terms and Conditions Display and Tracking
Two updates have been made to help manage Terms and Conditions for sales order documents.
Terms and Conditions can be displayed with any sales order. If the Terms and Conditions component is added in the template designer, you can send the Terms and Conditions that were agreed to with any captured sales order. Prior to this, the Terms and Conditions were only viewable on the shopping cart at checkout.
The management of the Terms and Conditions still takes place in the StoreSite Administration section of ChannelOnline. For better tracking of which Terms and Conditions were agreed to on which order, there exists a section to review prior versions. After any update to the T's & C's, ChannelOnline will capture the changes and show a history of previous versions. NOTE: You must pull up a
sales order to see which T's &C's were applied to that order.
You can access this feature in the StoreSite Admin at Settings -> Messaging -> Terms & Conditions by clicking the new document icon found there.
Display Pricing Column on Quotes
By enabling a configuration in Company Settings, your sales teams will be able to see right on the quote the margin, markup, or discount of list that they are providing to the end customer. This pricing column is added to all document types. This column can display any one of the following configurable values:
% Discount-off List
% Margin
% Markup

Manage Multiple Location Addresses
ChannelOnline can now support multiple reseller company addresses. This means that if you have more than a single location, or use a remit to PO Box, you can now enter those addresses into ChannelOnline and assign them to specific documents. For example, you can use a PO Box address on all invoices, while using a different business address on all sales orders.
Add your additional address on the Company Settings -> Contact Information screen. The following address types are available for configuration:
Business
Bill To
Ship To
Remit To
From Sales Team to Personnel
The Sales Team admin module has been renamed to "Personnel". When looking at the left or center menu in the Admin tab, you will now see the term "Personnel" used in place of the previous term "Sales Team".

With this change comes the added support for the new Access Rights Profile type called Employee. These employee accounts do not consume licenses and therefore are unable to log in to ChannelOnline.

The addition of the new Job Roles dropdown has been added to each user's profile information. Future functionality will be making use of Employees and Job Roles by assiging them to customers and documents.
The 6.0 Release has added the ability to assign an external person access rights to log in and manage payment of your ChannelOnline account with CNET Content Solutions. This enables you to grant your Accounts Payable team access to the ChannelOnline billing screens without consuming additional seats. The set-up of the Account Services Portal username and password is located at the bottom of the Company Settings page.
For these users to log in, a new tab has been added to the ChannelOnline login screen specifically for 'Account Services' access.
Dell PartnerDirect Supplier Support
Improvements to Dell PartnerDirect Integration:
Added the capability to import a product catalog of Dell PartnerDirect products.
Added a Company Settings option that will allow you to restrict individual sales team members to specific Dell Premier pages. The default behavior is to allow all sales reps to access all Dell Premier pages.
Product weight is now included in the Premier page exchange, making your shipping estimates more accurate.
The process of creating a Dell Premier PO has been modified to match that of existing suppliers.
Added the ability to configure a markup or margin percentage for products added via Dell Premier pages. This setting is available in the PunchOut Settings module for each outgoing connection.
Jenne Inc. - NEW Catalog and Pricing Support
New to ChannelOnline with standard catalog and pricing support, Jenne Inc. is a leading value-added distributor of business telephony, data, audio and video conferencing, and security technology products, including equipment and software for the SMB and Enterprise markets. Jenne is committed to providing installers, dealers and resellers with a broad product selection, competitive pricing, on-time accurate delivery, outstanding technical support, plus ongoing sales and technical training.
Jenne's strategic alliances ensure its continuing ability to meet the reseller's growing needs. More than 150 major manufacturers partner with Jenne including Avaya, Panasonic, Extreme Networks, ADTRAN, Lifesize, ClearOne, Plantronics, GN Netcom, Aastra, ICC, Valcom, and Verint. Jenne is dedicated to tracking emerging technologies, offering fresh solutions, new equipment and related applications, and accredited training and certification to better serve dealers and resellers. For more information on Jenne, call toll-free at (800) 422-6191 or visit www.jenne.com.
Go to your supplier settings to enable Jenne.
New
A new customer Payment Options Access Right has been created in the Access Rights section of Admin. This new right limits access by users to these customer account payment options:
Set credit limit amount / reset amount
Setting credit terms
Payment options: default payment
Selecting available payment terms for a customer

Enable/disable this right from the Access Rights option under the Customer section.
Updates
Added the ability to run a sales report and get the serial numbers for all the products of an order from a manufacturer, or a single manufacturer product number.
Added a new "Marketplace" tab to the main ChannelOnline dashboard for getting up-to-date information on supplier, manufacturer and industry news.
Reorganized the Company Settings portion of ADMIN to manage multiple addresses.
Updated the demographic questionnaire that is submitted by resellers in the Company Settings, Contact Information, Demographic Information section in Admin.
Added support for the You Tube social icon on the StoreSite.
Fixes
Fixed an issue where a Live P&A would overwrite a manually entered contract / bid cost on the PO screen.
Issue where the Help Center on the StoreSite times out.
Intermittent issue where custom tabs could not be disabled.