The 6.0.5 Release of ChannelOnline brings new document creation and delivery features, plus a series of back-end changes to enhance functionality and the business process experience.
---
Try The New Template Designer and Delivery Features
You will now have the ability to test and/or activate the new templates and send functionality while still using the current document template for all your customer documents. Read below for more information about activating the trial.

Easy Document Customization
ChannelOnline 6.0.5 improves and re-introduces a whole new way to customize the look of your quote, sales order and invoice documents.
Users with permission to 'Design and Manage Document Templates' will see a new Admin module called Document Templates where they can create and manage template designs. There are a handful of built-in designs already available for use as well as a version of the current design you are using today. To quickly get started on making your own template, just make a copy and modify a built-in one.

Document Templates can be flagged as Enabled/Disabled to control their availability on the new delivery screen. In addition, templates can also be designated for use as packing slips.
The designer interface has been built for ease of use. Just choose a layout design from the dropdown list, add components to the page by clicking on the plus symbol in the target area, and finish by adding color and fonts to those components. Some components have size restrictions for where they can be placed.
Many components can be configured with titles, font sizing, borders, and backgrounds by using the edit button. The HTML component has a built-in HTML editor for creating richer messages.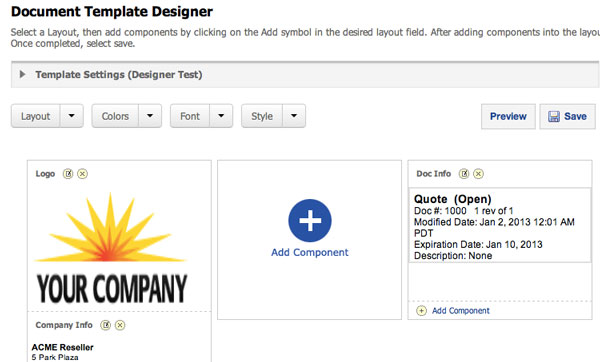 ChannelOnline has dramatically improved the capabilities and methods for delivering a quote to your customer.
Now you can enjoy a consolidated document delivery experience from the click of a single button. This new button called 'Send" can be found at the bottom of any document page.

What you used to do with many links, you can now do with one. The "Print / Email" links are used if the Quick Publish feature is enabled.
The document delivery screen now includes a live preview of the finished result which you can review before sending, printing, or downloading as a PDF directly to your hard drive. Also new for this release is the ability to add file attachments to the emails you send out of ChannelOnline. When emailing, downloading, or printing any document, the template selector allows you to choose from a list of 'active' templates for formatting your document.
After selecting a template, there are a number of familiar and new document print options. Some of these new options include showing product images, terms and conditions, and percent discount-off a product's list/MSRP price.
Delivery option preferences (default template and checkbox options) are stored for each sales rep in their My Preferences section. Get to it by navigating to: My Account -> My Preferences -> Print Preferences.
Terms and Conditions Display and Tracking
With the new delivery feature, Terms and Conditions can be displayed with any sales order. If the Terms and Conditions component is added in the template designer, you can send the Terms and Conditions that were agreed to with any captured sales order. Prior to this, the Terms and Conditions were only viewable on the shopping cart at checkout.

The management of the Terms and Conditions still takes place in the StoreSite Administration section of ChannelOnline. To review your current Terms and Conditions, go to StoreSite Admin at Settings -> Messaging -> Terms & Conditions.
Display Pricing Column on Quotes
By enabling a configuration in Company Settings, your sales teams will be able to see right on the quote the margin, markup, or discount of list that they are providing to the end customer. This pricing column is
added to all document types. This column can display any one of the following configurable values:
% Discount-off List
% Margin
% Markup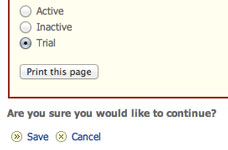 The Template Designer, accessed from Admin > Template Designer, gives you the capability to design your own templates for use with the new document delivery system. Users with administrative rights to the Template Designer page can activate the Trial by clicking on the " click here" link in the yellow information box at the top of the page.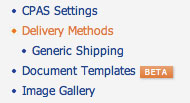 This feature set allows resellers using the StoreSite to display a virtual list of shipping carriers, rather than the actual shipping carriers you have configured at: Admin -> Delivery Methods
In order to activate Generic Shipping, navigate to Admin -> Delivery Methods -> Generic Shipping (It's a sub-page under Delivery Methods)
To utilize this feature, do two things:
1. Map all of your existing shipping carriers to a generic / virtual carrier from the screen shown above. You cannot enable the feature until all of your active carriers have been mapped to a generic shipping method.

In the screenshot above, generic shipping method called "1 Day" contains three actual carrier methods in it - FedEx Priority Overnight, UPS Next Day Air and USPS Priority Mail. The system must also know which shipping estimate to use, the highest or lowest value from the group. "Max" was chosen, which will use the higher shipping estimate when determining the customer shipping price.
Once you've finished mapping ALL of your carrier methods, you will be given the option to enable this feature globally at the bottom of the screen.
2. Once you have configured your carrier mappings - you will need to enable generic shipping for each ChannelOnline StoreSite where you wish to utilize this feature. To do this, navigate to: Admin -> StoreSite Admin -> (edit) Store_Name -> Settings Tab - Cart (Quote) -> Edit
Enable the option titled "Show Generic Shipping Names on the cart and in checkout", and save your changes.
Your customers will now receive only the generic shipping names when adding products to a cart and when checking out. Once your buyers have created and linked a PO to the customer's order, and a final shipping method has been selected, your customer's Sales Order will be updated to reflect the actual carrier.
Updates
Added the 2nd line of the product description to the product sync with Connectwise
Included the status of an RMA with the RMA print / email view of the document
Fixes
Cases where some Storesite's order freight was defaulting to FedEx First Overnight
Issue with problems editing Storesite Admin in Internet Explorer 9
Fixed Internet Explorer 10 issues when emailing quotes and orders